Code: Select all
=========================================================================================
 VERSION:      MADSONIC 6.2 | BUILD: 9080 
 SERVLET:      jetty/8.y.z-SNAPSHOT, java 1.8.0_141, Windows 10 10.0 (amd64) (58.5 MB / 336.5 MB)
 SERVER:       CPU: CORE i3-4010U | ARCH: X64 | MEMORY: 8GB | HDD: 128GB
 OS:           WINDOWS 10 x64
 SYSTEM:       SERVER (NUC) + NAS Synology (data) : 9TB
 INSTALLER:    WINDOWS
 JAVA:         ORACLE JDK 1.8
 BROWSER:      CHROME
 CLIENT:       MADSONIC 5.7.1 (on Android 7.1.1)
 DESCRIPTION:  CRASH ON START 
 REPRODUCIBLE: YES
=========================================================================================
Hello, I finally decided to buy the Madsonic client to remplace my Subsonic app.
(didn't even see there was a summer sales ... whatever
)
However, while I have no trouble accessing my server from computers (at work or elsewhere) or with the Subsonic app, the Madsonic client cannot connect.
Before someone suggests it : NO, I don't use a wrong password. I use the same password manager on my phone than on my computers.
I did foward my port from the server to my router, so no trouble there either.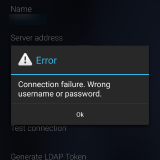 It didn't work on the last stable version (6.2 9040), so I tried 6.2 9080 with no success.
I tried deleting a re creating the server on the app, no success either.
Even after those modifications, I still can easily browse my music from the Subsonic app.
It's a bit sad, I'm sure the app is great ... I would just like to try it
Does someone has an idea ?